USS Saratoga (CV-3)
was a Lexington-class aircraft carrier built for the United States Navy during the 1920s. Originally designed as a battlecruiser, she was converted into one of the Navy's first aircraft carriers during construction to comply with the terms of the Washington Naval Treaty of 1922. The ship entered service in 1928 and was assigned to the Pacific Fleet for her entire career. Saratoga and her sister ship, Lexington, were used to develop and refine carrier tactics in a series of annual exercises before World War II. On more than one occasion these included successful surprise attacks on Pearl Harbor, Hawaii. She was one of just three prewar U.S. fleet aircraft carriers, along with Enterprise and Ranger, to serve throughout World War II.
Shortly after the Japanese attack on Pearl Harbor, Saratoga was the centerpiece of the unsuccessful American effort to relieve Wake Island and was then torpedoed by a Japanese submarine a few weeks later. After lengthy repairs, the ship supported forces participating in the Guadalcanal Campaign and her aircraft sank the light carrier Ryūjō during the Battle of the Eastern Solomons in August 1942. She was again torpedoed the following month and returned to the Solomon Islands area after her repairs were completed.
In 1943, Saratoga supported Allied forces involved in the New Georgia Campaign and invasion of Bougainville in the northern Solomon Islands and her aircraft twice attacked the Japanese base at Rabaul in November. Early in 1944, her aircraft provided air support during the Gilbert and Marshall Islands Campaign before she was transferred to the Indian Ocean for several months to support the British Eastern Fleet as it attacked targets in Java and Sumatra. After a brief refit in mid-1944, the ship became a training ship for the rest of the year.
In early 1945, Saratoga participated in the Battle of Iwo Jima as a dedicated night fighter carrier. Several days into the battle, she was badly damaged by multiple kamikaze hits and was forced to return to the United States for repairs. While under repair, the ship, now increasingly obsolete, was permanently modified as a training carrier with some of her hangar deck converted into classrooms. Saratoga remained in this role for the rest of the war and was used to ferry troops back to the United States after the Japanese surrender in August. In mid-1946, the ship was a target for the nuclear weapon tests during Operation Crossroads. She survived the first test with little damage, but was sunk by the second test.
http://upload.wikime...derway_1942.jpg
Design and construction:
Saratoga was the fifth US Navy ship named after the 1777 Battle of Saratoga, an important victory during the Revolutionary War.She was originally authorized in 1916 as a Lexington-class battlecruiser, but construction was placed on hold so that higher-priority anti-submarine vessels and merchant ships, needed to ensure the safe passage of men and materiel to Europe during Germany's U-boat campaign, could be built. After the war the ship was extensively redesigned to incorporate improved boiler technology, anti-torpedo bulges, and a general increase in armor protection based on British wartime experiences. Given the hull number of CC-3, Saratoga was laid down on 25 September 1920 by New York Shipbuilding Corporation of Camden, New Jersey.
In February 1922, before the Washington Naval Conference concluded, the ship's construction was suspended when she was 28 percent complete. She was ordered to be converted to an aircraft carrier with the hull number CV-3 on 1 July 1922.
Her displacement was reduced by a total of 4,000 long tons (4,100 t), achieved mainly by the elimination of her main armament of eight 16-inch (406 mm) guns in four twin gun turrets (including their heavy turret mounts, armor, and other equipment). The main armor belt was retained, although it was reduced in height to save weight. The general line of the hull remained unaltered, as did the torpedo protection system, because they had already been built, and it would have been too expensive to alter them.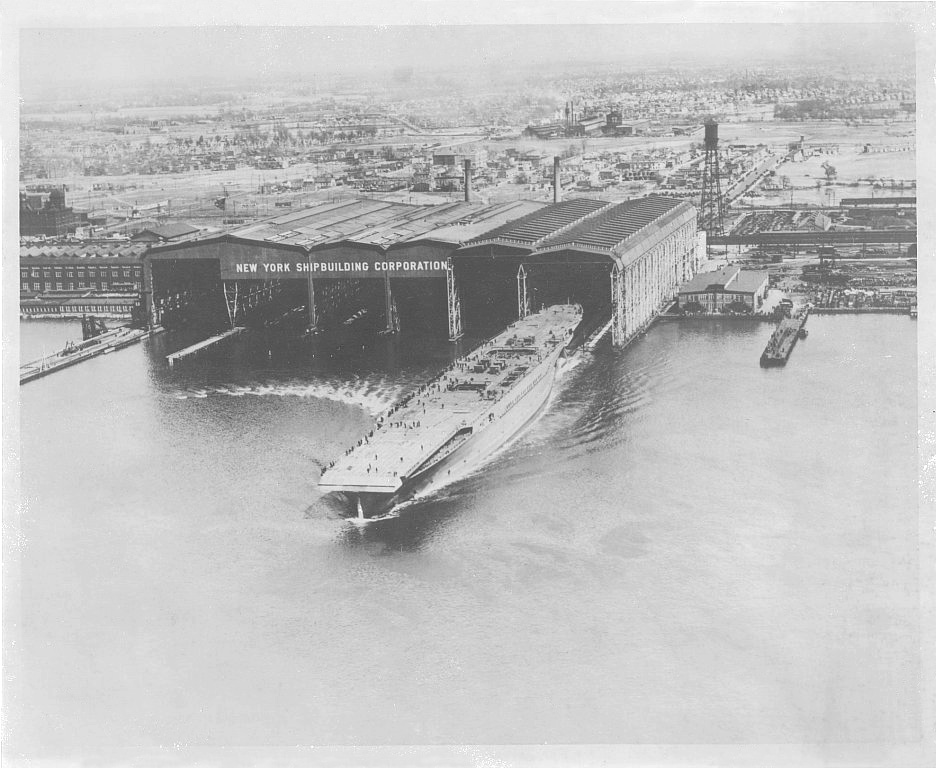 The ship had an overall length of 888 feet (270.7 m), a beam of 106 feet (32.3 m), and a draft of 30 feet 5 inches (9.3 m) at deep load. Saratoga had a standard displacement of 36,000 long tons (36,578 t), and 43,055 long tons (43,746 t) at deep load. At that displacement, she had a metacentric height of 7.31 feet (2.2 m).
Christened by Mrs. Curtis D. Wilbur, wife of the Secretary of the Navy, Saratoga was launched on 7 April 1925 and commissioned on 16 November 1927, under the command of Captain Harry E. Yarnell. She was nicknamed by her crew Sister Sara and, later, Sara Maru.In 1942, the ship had a crew of 100 officers and 1,840 enlisted men and an aviation group totaling 141 officers and 710 enlisted men.By 1945, her crew totalled 3,373, including her aviation group.
Flight deck arrangements:
The ship's flight deck was 866 feet 2 inches (264.01 m) long and had a maximum width of 105 feet 11 inches (32.28 m). Her flight deck was widened forward and extended 16 feet (4.9 m) aft during her refit in mid-1941. When built, her hangar "was the largest single enclosed space afloat on any ship" and had an area of 33,528 square feet (3,114.9 m
2
). It was 424 feet (129.2 m) long and no less than 68 feet (20.7 m) wide. Its minimum height was 21 feet (6.4 m), and it was divided by a single fire curtain just forward of the aft aircraft elevator. Aircraft repair shops, 108 feet (32.9 m) long, were aft of the hangar, and below them was a storage space for disassembled aircraft, 128 feet (39.0 m) long. Saratoga was fitted with two hydraulically powered elevators on her centerline. The forward elevator's dimensions were 30 by 60 feet (9.1 m × 18.3 m) and it had a capacity of 16,000 pounds (7,300 kg). The aft elevator had a capacity of only 6,000 pounds (2,700 kg) and measured 30 by 36 feet (9.1 m × 11.0 m). Avgas was stored in eight compartments of the torpedo protection system, and their capacity has been quoted as either 132,264 US gallons (500,670 l; 110,133 imp gal) or 163,000 US gallons (620,000 l; 136,000 imp gal).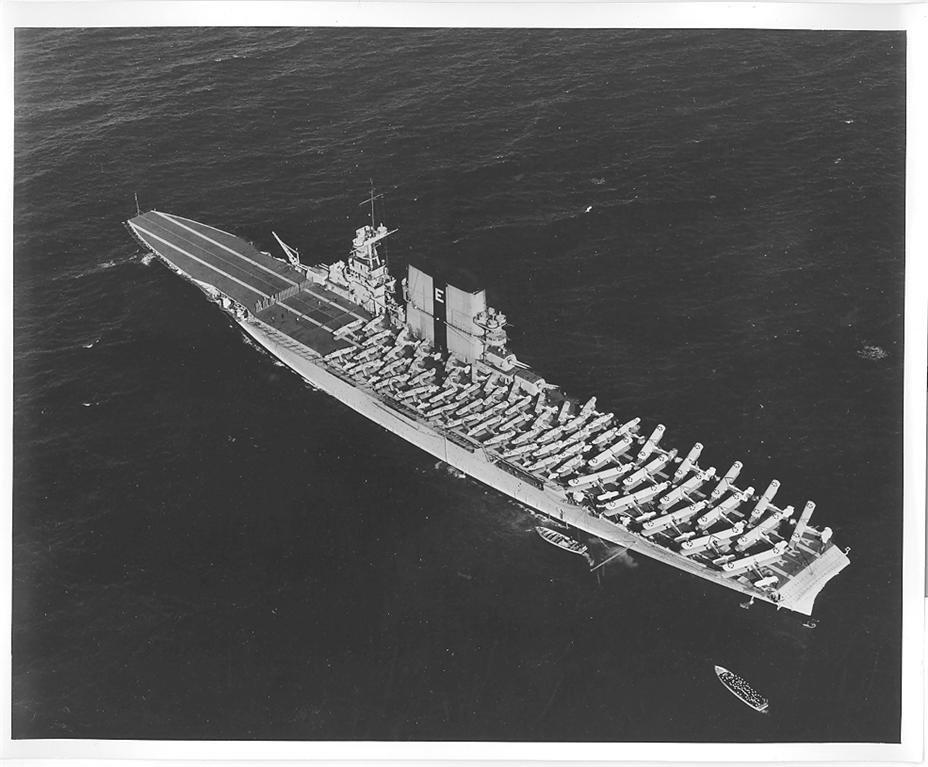 Saratoga was initially fitted with electrically operated arresting gear designed by Carl Norden that used longitudinal wires intended to prevent the aircraft from being blown over the side of the ship, and transverse wires to slow the aircraft to a stop. This system was authorized to be replaced by the hydraulically operated Mk 2 system, without longitudinal wires, on 11 August 1931. Four improved Mk 3 units were added in 1934, giving the ship a total of eight arresting wires and four barriers intended to prevent aircraft from crashing into parked aircraft on the ship's bow. When the forward flight deck was widened, an additional eight wires were added there to allow aircraft to land over the bow if the landing area at the stern was damaged. The ship was built with a 155-foot (47.2 m), flywheel-powered, F Mk II aircraft catapult, also designed by Norden, on the starboard side of the bow. This catapult was strong enough to launch a 10,000-pound (4,500 kg) aircraft at a speed of 48 knots (89 km/h; 55 mph). It was intended to launch seaplanes, but was rarely used; a 1931 report tallied only five launches of practice loads since the ship had been commissioned. It was removed sometime after 1936.
Relatively few changes were made during the war to the ship's aircraft handling equipment. Her crew removed her forward arresting wires in late 1943, although their hydraulic systems were not removed until her refit in mid-1944.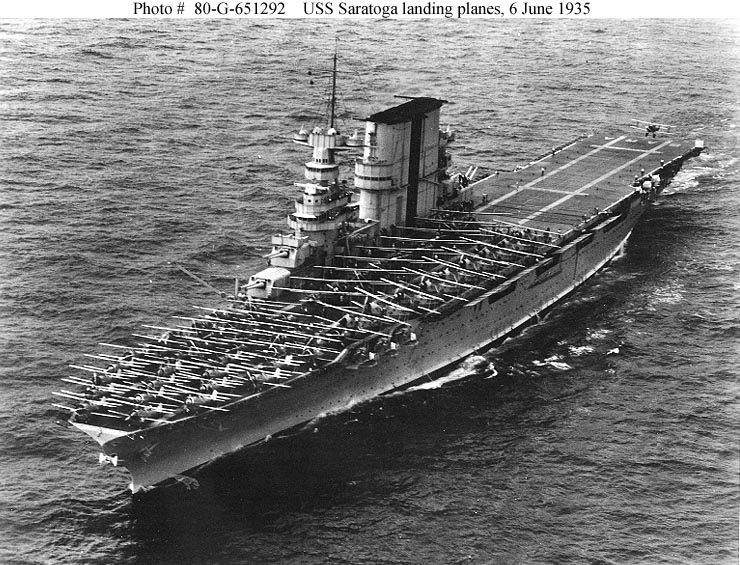 At that time she received two Type H steam catapults mounted in her forward flight deck to handle the heavier aircraft entering service. Before the war, plans were made to replace the aft elevator with a 44-by-48-foot (13.4 m × 14.6 m) model, but manufacturing delays and operational demands prevented this from ever happening. By mid-1942, the increasing size and weight of naval aircraft exceeded the capacity of the aft elevator and it was locked in place. It was finally removed in March 1945 to save weight and the opening in the flight deck was plated over. The machinery for the forward elevator was scheduled to be upgraded before the war, but this was not done until mid-1944. A new, 44-by-48-foot lightweight forward elevator identical to those used in the Essex-class carriers was installed in March 1945.
Saratoga was designed to carry 78 aircraft of various types, including 36 bombers, but these numbers increased once the Navy adopted the practice of tying up spare aircraft in the unused spaces at the top of the hangar. In 1936, her air group consisted of 18 Grumman F2F-1 and 18 Boeing F4B-4 fighters, plus an additional nine F2Fs in reserve. Offensive punch was provided by 20 Vought SBU Corsair dive bombers with 10 spare aircraft and 18 Great Lakes BG torpedo bombers with nine spares. Miscellaneous aircraft included two Grumman JF Duck amphibians, plus one in reserve, and three active and one spare Vought O2U Corsair observation aircraft. This amounted to 79 aircraft, plus 30 spares. In early 1945, the ship carried 53 Grumman F6F Hellcat fighters and 17 Grumman TBF Avenger torpedo bombers.