Commisioned on 31.6.1925 Jintsu was the second vessel completed in the three-ship Sendai-class of light cruisers, and like other vessels of her class, she was intended for use as the flagship of a destroyer flotilla.
The Jintsu

served in the fleet with the other light cruisers for the next three years. During one of the many realistic combat-like exercises the Japanese Navy conducted on August 24, 1927 preparing for night surface battles, the cruiser collided with the destroyer Warabi and severely damaged her bow. After repairs, the light cruiser became a destroyer squadron flagship

— a designation she carried for the rest of her existence. While she frequently participated in fleet exercises, she visited the waters off the Chinese Coast several times in the 1920s and 1930s. in mid-1937, the Jintsu supported Japanese military operations in it war with China.
She escorted the Midway invasion's shipping in June 1942 and headed back to Japan after the Japanese defeat there. After the Allied invasion of Guadalcanal and Tulagi, the Navy ordered her to Truk to take part in the Japanese attempts to recapture Guadalcanal. As the cruiser escorted transports down the Slot on August 25, 1942, an American bomb hit her and inflicted serious damage to the ship. She limped back to Japan for repairs for the remainder of the year.
The Jintsu

came back to Truk in January 1943 as a destroyer squadron flagship. She stayed at this naval base and ready to meet any mission the navy would assign to her. In early July, she steamed south to Rabaul to help reinforce Japanese forces on bases in the central Solomons. While escorting destroyer-transports taking troops to Vial on Kolombangara, a more powerful Allied force of cruisers and destroyers met her. In a brief battle, Allied gunfire from the cruiser USS Honolulu, USS St. Louis, and HMNZS Leander and one torpedo pounded her. The cruiser broke apart amidships in two pieces and sank, taking almost 500 of her crew.
Displacement:
5,195 tons (standard)
Length:
152.4 meters
Beam:
14.2 meters
Draught:
4.9 meters
Propulsion:   
4 shaft Parsons geared turbines
10 Kampon boilers
90,000 shp
Speed:
35.3 knots (65.4 km/h)
Range:   
5,000 nautical miles (9,300 km) at 14 knots (26 km/h)   
Complement:
452   
Armament:
7 × 5.5-inch (140 mm) guns (7x1)
2 × 80 mm guns,
4 × 610 mm torpedo tubes (4x2)
48 mines
Armor:
64 mm (belt)
29 mm (deck)
Aircraft carried:
1 x floatplane, 1 catapult
1925y Jintsu in Kure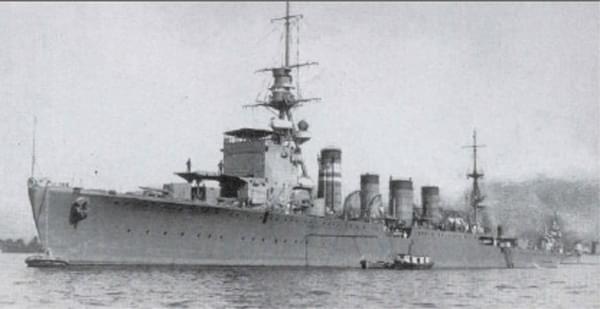 Light cruiser Jintsu damaged after colliding with destroyer Warabi during training exercise in night of 24 Aug 1927, Maizuru, Japan, circa 26 Aug 1927
Jintsu with new bow after collision with Warabi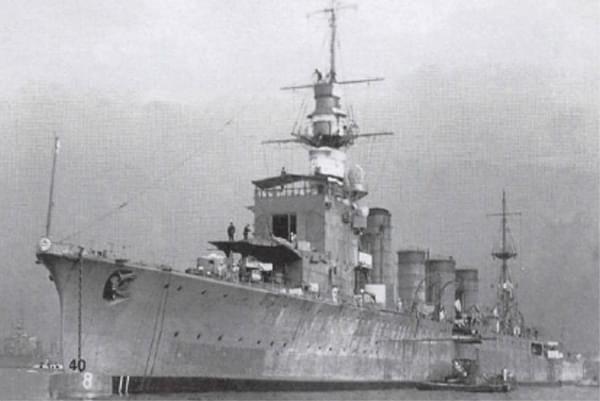 November 1939, Jintsu on route to Sato Point in Hiroshima Bay.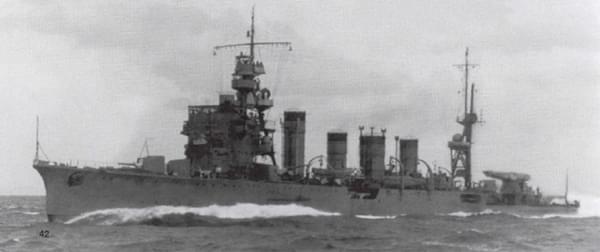 Edited by Entombet, 14 January 2013 - 10:10 AM.