The Gufo radar was the operational radar installed in some italian ships from 1943 up until the armistice in September the 8th 1943. The Gufo(Owl, known also as EC3) is just the last version with the other two(EC1 and EC2) developed years before.
The Gufo was developed by a team lead by professor Ugo TIberio and professor Nello Carrara. The studies started in 1935 and, although limited funding and a limited amount of researchers, the two professors were able to create a first prototype, EC1, and improve it in a later version, EC2. In 1938 the government decided to cancel the program due to budget cuts, mistake with lead to Italian defeats in the first years of the war due to the superiority of the Royal Navy in night engagements.
The research restarted in 1941 after the battle of Cape Matapan(March 29th) and the first tests were done in April. When used operationally it was wide used by the Italian ships which mounted them, most of the time disobeying orders(the High Command gave order to use the radar only in limited circumstances). Although successful the Gufo was installed in few ships when the Armistice was signed(overall were produced only 12 out of the 50 ordered).
The Gufo console
Technical data:
Type Early warning radar
Frequency from 400 to 750 MHz(thanks to frequency modulation)
PRF 500 MHz
Beamwidth 6° (horizontal), 12° (vertical)
Pulsewidth 4 μs
RPM 3
Range 25–80 km (16–50 mi)
Power 10 kW
Sadly i don't have any information about the EC1 and EC2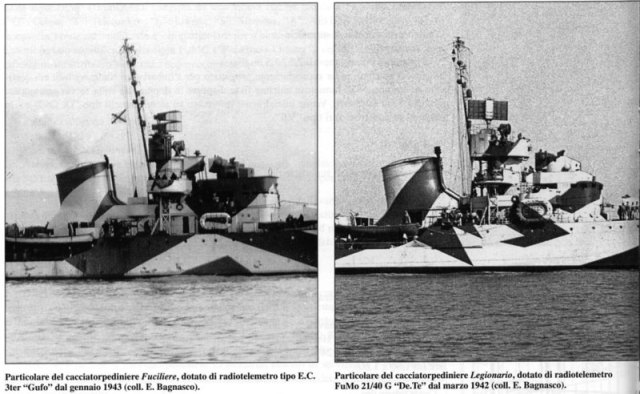 The RM Fuciliere(soldati class) with the Gufo The RM Legionario(Soldati class) with a German radar(FuMo 21/40 G "De.Te")
I hope you'll like it!
Deamon93